After the death of George Floyd: Thousands of people demonstrated in Hamburg against racism and police violence. Abimbola Odugbesan organized the demonstrations. FINK.HAMBURG spoke to him about the Black Lives Matter movement.
Click here for the German Version
Black people, People of Color, White people – you have difficulties with the politically correct terms?

The terms Black and White are not about skin colour, but about political terms. It is about naming racism and the balance of power in a predominantly White society – that is why Black and White are capitalized. People of Color (PoC) is a self-designation of people with experience of racism.

Source: The website of  Neue Deutsche Medienmacher*innen you will find a glossary to help you with formulations.
May 25, 2020, Minneapolis, Minnesota: A video went viral showing the brutal arrest of George Floyd by White police officers. The Black American died afterwards in the hospital. For 8 minutes and 46 seconds, police officer Derek Chauvin pressed his knee into the neck of George Floyd, who died shortly thereafter.
The case triggered protests against police violence and racism, not only in the USA. In Hamburg thousands of demonstrators took to the streets. In Germany many Black people and People of Color report that racial profiling is part of their everyday life. Here, too, there are reappearing cases of death which can supposedly be linked to structural racism within the police force. For example the death of Yaya Jabbi in February 2016, who died in custody of the Hamburg police. The case was investigated, with the result that the 21-year-old allegedly committed suicide in his cell. The judicial authorities, relatives and friends saw no sign of suicide. For his relatives and friends, therefore, doubts remained.
How do we as media makers deal with this topic?
The current FINK.HAMBURG editorial office is a White editorial office. That means that all editors are at least 'White passing': In society we are perceived as Whites and therefore not racially excluded or disadvantaged. We should question these privileges. Only then can we recognise our responsibility in the system and change our own racist behavior. This is often uncomfortable, but also liberating. In her book 'Exit Racism. Racism Critical Thinking' the anti-racism and diversity trainer Tupoka Ogette talks about leaving Happyland – a place where we, as White people, stay before we actively deal with racism.
Following the demonstrations of the Black Lives Matter (BLM) movement, we asked ourselves how we wanted to report on the rally at the U.S. Consulate and the daily struggle that People of Color and Black people are facing. Our method: Listening to those affected.
Ask the Experts of Color
The protests in Hamburg took place on the first weekend of June and were co-organized by the Lampedusa group in Hamburg. The group consists of around 350 refugees who since 2013 have been fighting for the right to permanently stay in Germany. Under the motto "Justice For Floyd – Stop Killing Blacks" around 4,500 demonstrators gathered in front of the U.S. Consulate on June 5. Abimbola Odugbesan was also there. He is 33 years old and from Nigeria. He joined the Lampedusa Group in September 2013. In this interview with FINK.HAMBURG he talks about the BLM movement. The interview was conducted in English and translated into German.
Lampedusa in Hamburg:
In May 2013, around 350 war refugees from Libya founded the Lampedusa group in Hamburg to fight for a permanent right of residence. After they had to leave the camps on Lampedusa (Italy), the refugees came to Hamburg – without a right to a work permit or social benefits and without accommodation. On 22 May 2013, a tent was erected near Hamburg's main railway station: A meeting place for the members of the Lampedusa group in Hamburg and other refugees and migrants. Together with anti-racist groups and individuals they have been fighting for seven years for a lasting solution for the whole group. They refer to paragraph 23 of the Residence Act.

FINK.HAMBURG: Abimbola, you are one of the initiators of the Black Lives Matter demonstrations in Hamburg. Would you like to introduce yourself?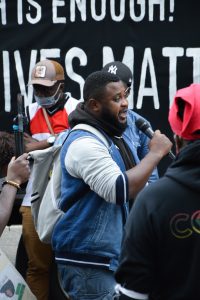 Abimbola Odugbesan: My name is Abimbola Odugbesan. I studied Political Science and Health Education at Olabisi Onabanjo University in Ago-Iwoye, Ogun State, Nigeria. I am one of the founding members of Lampedusa in Hamburg and at the same time a coordinator and lecturer at the Silent University Hamburg.
Being an activist is part of my life. During my years in university I was very involved in the student union. We fought for reforms within the institutional system.
The Silent University is an independent educational institution by and for refugees and migrants who have completed academic vocational training in their home countries but are not allowed to practice here due to their residence status.
I love to fight. Meaning: I love engaging in political fights by using my intellect, potential and energy to organize freedom protests. I am also entangled with Pan-Africanism: The concept of full liberation of the African. This idea is also part of my identity. I am happy to be here to continue this fight in Hamburg.
How did you personally experience the protests on the first weekend of June?
Odugbesan: I don't know the right adjective to use. I have the feeling that we don't have the resources and influence to channel our fight in the right direction. I always think about who controls and dominates the direction of the refugee and immigrant movement. During the Corona lockdown I did a lot of thinking, reading and listening to news.
When I heard about the murder of George Floyd, my head exploded, and I was grieving. I had this kind of energy, I really had to be on the street again, to see how to be constructive. It has been a very good protest so far. But at the same time, I still have some reservations that nothing is really moving in the right direction. Because the oppression of Blacks is increasing even during worldwide BLM protests.
So you do not see any fundamental change in society yet?
Odugbesan: On June 5, 2020 in front of the U.S. consulate and the next day in front of the Hamburger Rathaus I felt an immediate anger, an immediate grief coming from the people – and from myself. I don't see a global shift that could make people feel they're on top of the game. The so-called world leaders don't take institutionalized racism serious and do little or nothing to mitigate it. It is the deadliest instrument used against Black folks worldwide.
During this protest I saw a lot of young people, mostly White folks and also Afro-Germans. This is symbolic for me: Now young people from the new generation are becoming aware of how dangerous racism is and how it is rooted in society. Both White people and Afro-Germans are becoming aware that racism is a deadly virus. You can see this at the rallies: On June 5 and 6, thousands of people came to demonstrate.
Does this mean that the BLM movement has mobilised many young people in your eyes?
Odugbesan: Many People are just becoming aware that something is really wrong with the system and police violence is real. Because of their inexperience the young protestors don't know how to approach the police. After the rally, the police tried to arrest some very young people, who were new to the movement. However, it's the responsibility of well experienced political groups to protect them because everyone is important in this moment.
The police need to understand that these are young people, who have the right to protest. And I don't see any reason why the police are restricting their fundamental human right by arresting them illegally.
After 30 minutes the police declared the demonstration over. Nevertheless, the demonstration continued. Why?
Odugbesan: Yes, the police said that there were too many people. But the demonstrators took responsibility for themselves, and they were willing to face the consequences. They stood up for what they believe in, even though the police said that they violated the Corona rules. Nobody was violent, they just wanted to show their anger.
What do you think about demonstrating in times of Corona?
Odugbesan: Of course, it is really important that we take the issue of Corona seriously. But the people are also responsible for themselves. We should be aware that the protests were in a special situation: The people were grieving. Also, the police were not there to protect the protestors. They were there to protect the U.S. consulate. The police only provided water cannons to protect U.S. consulate, which is very shameful.
We probably have many White readers who may not have been involved with the BLM movement. Can you explain what the movement is about, especially here in Germany?
Odugbesan: I think here in Germany it's about creating more awareness about the Black struggles. I think White people have to pay attention to Black people who are treated unfairly, for it was the Whites who created the system of oppression. There are a lot of stories, that, in my opinion, White people do not know because they are White.
This is my seventh year of political activism and I met quite lot of Whites who are good people. They mean good but sometimes they don't really have the background of what it means to be a Black. What it means to be intimidated because you're Black. What it means to be humiliated because you're Black. To have a kind of mental taint because Black identity has become a social stigma.
For the movement two things are important: Black people who share their experiences as victims of institutionalised racism and interested White people who listen and show understanding. It is problematic if the concept of the movement is coming only from the Whites.
Why is this problematic?
Odugbesan: The concept must come from Black people. The reality is: If we, the Black people, want to win the fight against violence against Blacks, we need White people on board.
The first movement march to Alabama (see Selma to Montgomery marches) with Martin Luther King 55 years ago was not successful. Because they were Blacks only, the police interrupted the march. But the second march to Alabama was a combination of both Black and White folks. And they succeeded. That means we also need White people in this movement.
But I think that Back people should set the tone while Whites should try to listen, understand their boundaries and responsibilities. Because the concept of racism generates from the White people. If racism should be stopped, it must start from the Whites.
You too gave a speech at the protest. Was it directed at the Black Communities? Or at White protesters as well?
Odugbesan: I was addressing the public – regardless race and creed. It was an awakening speech for everybody, that we have to be strong, we have to pay a prize. When White people treat Blacks badly, we need to find out how to deal with the situation constructively. The fight against racism is about speaking up. By becoming aware of racist structures we already made a small change in society. I know it will take a very long time.
What can we as White journalists do better when we write about racism?
Odugbesan: The question you ask is a very deep one. I think it is a little bit strange when White journalists want to report about racism. Because they will always narrate the story from the White perspective. And they will always get it wrong. There should be more black people who need to take position in the media. They should be able to tell their own story, narrate their story. The media houses also need to learn about racism. There are good books written by black people, representing a non-White perspective. I don't think that White people can write about racism and get it right. They will still reproduce the White narrative of racism.
Can White journalists act as mediators?
Odugbesan: Well, I think White journalists might possibly be mediators if they're genuinely and sincerely critical of their Whiteness.
Cover picture: Maja Andresen